Easily and Securely Accept Credit Cards and eChecks using Authorize.net CIM
The Authorize.net CIM extension provides one of the most advanced integrations for WooCommerce while providing the security and reliability that comes with using Authorize.net for payment processing. Let your customers save their credit cards and bank accounts to their WooCommerce account for fast and easy checkout. Includes full support for WooCommerce Subscriptions and WooCommerce Pre-Orders. Start using the most advanced Authorize.net payment gateway today!
Authorize.net is one of the most popular payment processors around for a reason: they offer easy, safe, and affordable credit card and eCheck processing. This Authorize.net CIM payment gateway integration lets you take advantage of several features offered by Authorize.net, such as customer profiles, card tokenization, and eCheck processing.
The CIM version of the Authorize.net Payment Gateway extension allows you to keep the customer on your site for the checkout process, allowing you maximum control over checkout so that you can test and implement the most effective experience for your store. An SSL is required for PCI compliance due to the direct checkout to ensure that your customers' credit card information is secure.
Why Authorize.net CIM is right for your store:
Accept international transactions from customers worldwide
Accepts eChecks with optional Authorize.net eCheck account
Process refunds / voids automatically from within WooCommerce NEW
Capture prior authorized transactions right from the WooCommerce edit order screen NEW
Customers can securely save their payment method to their account for easier checkout
Updated payment form at checkout with retina icons NEW
Customers can add saved payment methods to their accounts without going through checkout NEW
Customers never leave your site during checkout
Show detailed decline messages at checkout instead of generic orders NEW
Full Support for WooCommerce Subscriptions
Full Support for WooCommerce Pre-Orders
Accepts all Major Credit Cards / Debit Cards – Visa®, MasterCard®, American Express®, Discover®, Diner's Club, JCB
Simple, Seamless Checkout
Using the Authorize.net CIM extension allows you to decide what your checkout process will look like, while keeping the customer on your site for the entire process. This gives you maximum control over this experience, providing a simple checkout process for the user and maximum customizability for the business owner.
You can now opt to show detailed decline messages to your customers, no more "an error occurred" error messages!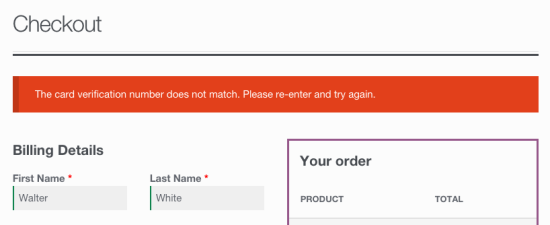 Support for Automatic Refunds — NEW
Shop employees can now process refunds for an order paid for with Authorize.net CIM directly from within WooCommerce — no more logging into your merchant account to process refunds! Speed up your store management by creating full or partial refunds from the "Edit Order" screen and sending the transaction automatically to Authorize.net by clicking "Refund via Credit Card".
If the transaction has not been captured or settled, a transaction void will be performed automatically instead to cancel the order.
Securely Save Customer Payment Methods
Customers can easily & securely save multiple payment methods to their account for faster checkout, which are displayed in unified "My Payments" section of their account. Payment data is stored on Authorize.net's secure servers, so your responsibility for PCI compliance is significantly reduced. There's no limit to the number of payment methods a customer can store on their account, and both credit cards and eChecks are supported.
Customers can also change their active payment method, add payment methods, and remove payment methods from the My Account page. The "Add Payment Method" workflow is seamless and tokenizes card information for future use without requiring the customer to go through checkout!
Please note that you must have the CIM service enabled for your Authorize.net account.
Full Support for Subscriptions and Pre-Orders
Authorize.net CIM is the ideal gateway for WooCommerce Subscriptions, offering support for all of Subscriptions features – payment date changes, subscription date changes, and more. Even better, customers can sign up for subscriptions with a credit card or eCheck. The gateway also fully-supportsWooCommerce Pre-Orders, so you can take customer's payment information upfront and then automatically charge their payment method once the pre-order is released.
Full Support for Authorize.net eChecks
Customers with US bank accounts can checkout using their bank account information for a checking or savings account. To use this feature, you must have an active Authorize.net eCheck account.
Capture Charges directly from WooCommerce – NEW
Some users choose to set the payment gateway to only authorize charges rather than authorize & capture them. However, this requires the user to then log into the payment gateway admin to capture charges. Versions 2.0+ of this extension allow you to optionally capture previously authorized transactions directly from the WooCommerce Edit Order screen rather than logging into your Authorize.net control panel to do so. Simply edit the order, select the "Capture Charge" action, and charges will be captured through Authorize.net.
Want to hear about a great bonus to using a WooCommerce Authorize.net Payment Gateway? You can avoid all of the hassle of logging in to your Authorize.net account and running all sorts of complex reports just to get a simple list of transactions. Try the WooCommerce Authorize.net Reporting extension. After you install and configure the extension, you'll start receiving a daily email with your Authorize.net transactions from the previous day attached as a CSV. You can also get transactions for a range of dates easily right from your WooCommerce store!